The World Intellectual Property Organization's Standing Committee on Copyright and Related Rights (SCCR) meets this upcoming November 14 to November 18.  Several topics are on the agenda for discussion, including limitations and exceptions for libraries and archives. The last four topics outlined in this working document are slated for discussion:
1. Limitations on liability for libraries and archives (Topic 8 p.40):  the committee will discuss a proposed text to protect librarians and archivists from criminal liability and copyright infringement when they perform their duties in good faith.
2. Technological measures of protection (Topic 9 p.43): The committee will discuss proposals that would ensure that libraries and archives could circumvent digital locks where necessary to carry out the actions permitted under the proposed international instrument. The government of India notes that "when we are extending limitation exceptions given to the Libraries, there is a need for giving or allowing them to circumvent the technological protection measures but the care should be taken that it should not lead to piracy." (p. 43)
These two texts are of importance, as in the current context, "copyright exceptions and limitations are increasingly undermined by licensing practices and the use of technological protection measures that prevent libraries and archives from performing their functions."
4. Right to translate works (Topic 11 p.48): Article 8 of the Berne Convention already provides that authors enjoy the exclusive right of making and of authorizing the translation of their works. The proposed text presented at WIPO will discuss proposals for an international norm for the right to translate, permitting translation for the purposes of "teaching, scholarship or research" when the original is lawfully acquired and the work is not available in the language required. Publishers and authors are likely to object to these proposals.
These proposed texts have been on the agenda since 2013. As discussed in one of our previous posts, these proposals, if ensured, could free libraries, archives, educational and research institutions from copyright provisions that hamper their ability to make use of copyright works.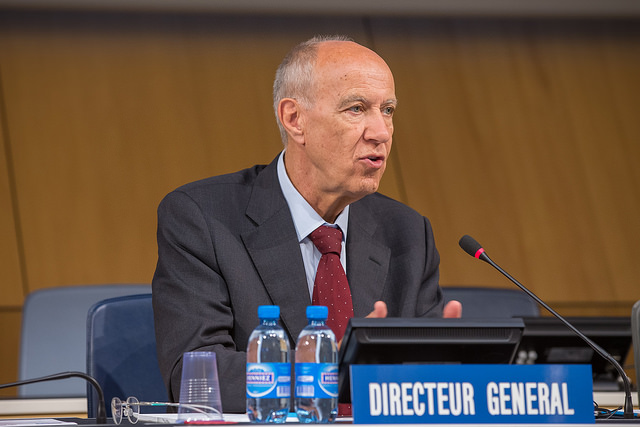 Photo: WIPO – Emmanuel Berrod.