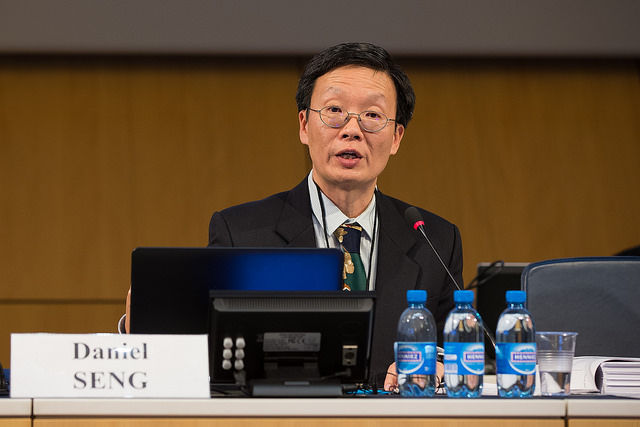 Photo: WIPO – Emmanuel Berrod.
As discussed in our previous post, the SCCR meeting held in November in Geneva discussed, among other topics, the limitations and exceptions for libraries and archives. Most notably, WIPO released a Study on Copyright Limitations and Exceptions for Educational Activities prepared by Professor Daniel Seng from National University of Singapore. The extended study reviews 2,048 pieces of copyright legislation  from 189 WIPO member states. It was a necessary addition to the other studies commissioned by WIPO mapping different limitations and exceptions in many different countries. As EIFL relates, the study focuses on eight categories of limitations and exceptions that relate to educational activities, forming the basis of an informal chart prepared by the Chair for further discussion on the topics by the committee. The revised chart will provide the basis for future discussion at the next SCCR meeting in May 2017.
Additionally, a preliminary presentation of the scoping study on limitations and exceptions for persons with disabilities, other than print disabilities, and a description of topics was discussed and will further be studied. (Item 22 of the Summary) The complete study is expected to be presented at the next SCCR meeting as well.
Of note, the Committee discussed the Proposal for Analysis of Copyright Related to the Digital Environment submitted in 2015 by the Group of Latin American and Caribbean Countries (GRULAC). Delegates of Chile delivered a powerful statement on behalf of GRULAC, acknowledging the digital work and help of archivists and museologists in Brazil and the U.K. in ensuring gender equity in the UN Charter of 1945.
In this statement, Chile explains that Brazilian scientist and diplomat "Bertha Lutz – with the help of delegates from Uruguay, Mexico, Dominican Republic and Australia – demanded the inclusion of women's rights in the Charter and the creation of an intergovernmental body for the promotion of gender equality, while the plenipotentiary delegate of the United States and the British delegate opposed."
The Committee supported the proposals that were made by some delegations to commission a scoping study on the impact of digital developments on the evolution of national legal frameworks over the last ten years. A proposal was made to add the topic to the SCCR agenda as a standing agenda item.
EIFL concludes, on behalf of librarians and archivists everywhere, that "with a busy agenda ahead, we will have to work hard to ensure that limitations and exceptions for libraries, archives and museums get their rightful attention and that we keep moving forward in 2017 for the benefit of libraries everywhere."