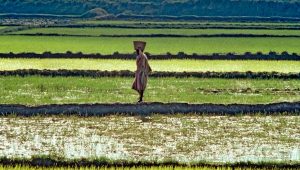 Rice field in Madagascar (Photo: UN Photo/Lucien Rajaonina).
From March 19th to 23rd, 2018, the World Intellectual Property Organization's (WIPO) IGC met for its 35th session in Geneva, Switzerland. The Draft Agenda for the session outlines the tentative topics of discussion, such as an update on the operation of the Voluntary Fund pertaining to the participation of Indigenous peoples and local communities, a summary of which can be found here. Also on the draft agenda for discussion are reports, recommendations, and proposals pertaining to genetic resources, which can also be found in the summary of documents.
In regard to the Voluntary Fund, the Information Note on Contributions and Applications for Support provides an exhaustive list of the voluntary contributions paid to the fund by nations, the amount of resources available, and the list of persons who were recommended for funding as of January 26th, 2018, as well as those who are seeking support to attend the IGC's 36th session. Here, it is worth noting that Canada proposed in its 2018 Federal Budget Plan that it will be allocating an investment of $1 million over the span of five years to allow Indigenous peoples to attend and participate in WIPO meetings pertaining to traditional knowledge and cultural expressions as a way of promoting intellectual property rights amongst its Indigenous communities.
During the course of the meetings, new proposals were submitted, and while some nations accepted them, others resisted. For instance, a revised proposal for a potential treaty preventing the misappropriation of genetic resources received much resistance from developing countries on the grounds that the U.S. introduced new issues this week that were not mentioned in the previous version (Saez). In response, a second version was created for consideration by member states, and the committee chair also created a proposal indicating the need to create an expert group to prevent the misappropriation of genetic resources prior to the next session of the IGC, and this proposal was met with positive reception (Saez).